Dear rangers!
As we had already announced last week
, we have prepared a little bonus code for all of you! Redeeming the code will unlock these two items for your game account: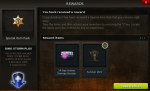 ​
IMPORTANT, PLEASE READ
This bonus code can only be used on one of your characters/avatars in your game account

. If you have multiple characters/avatars in your account, make sure that you are logged in with the one that should receive the items when you redeem the code!

The code will only be available for one week from now.

If you want to redeem it for your account, you need to do it within the next seven days!
Global Bonus Code (expired; no longer redeemable)
7DFF-C7BA-2F1D-3685
​