Game Update June 29, 2021
Around
5:30 AM local server time*
, game servers will restart for game resources to be updated.
Expiring Event Reward Boxes
As some of you had already pointed out earlier, it would make little sense to let event progression items expire, but have event reward boxes last forever. That's exactly how we see it as well, and that's why we are adding reward boxes to the list of Dinoball event items that will expire and vanish automatically one week after the event has concluded.

​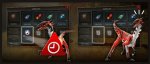 * US servers: EDT | EU servers: CEST | Asia server: CST