Game Update December 14, 2021
Between
8:30 AM and 10:30 AM UTC+1
, the game servers will restart for a game update to be deployed.
Event Preparations
Inventory-Related Improvements
The maximum number of inventory and warehouse slots has been increased:

Ranger inventories can now have up to 96 slots (previously: 80).
Warehouses can now have up to 360 slots (previously: 240).

Browsing performance for all kinds of inventories with many pages has been improved substantially.
Settings Window Improvements
The settings window now uses all of the available window space.
The names in the Language selection dropdown menu are no longer translated according to the local operating system's setting; instead, they are made up of two parts now:

Part one is the name translated to the currently selected in-game language.
Part two is the name in its native language.
For the currently selected language, both parts would be identical ‒ so we are only showing one.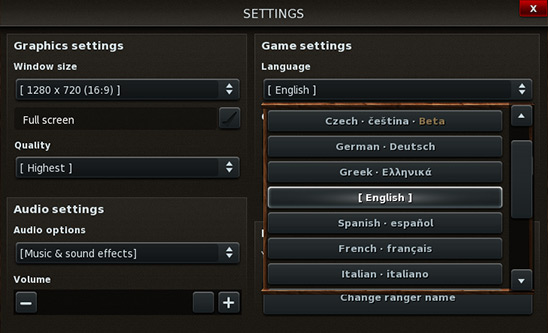 Other Fixes
The warehouse window now auto-closes when moving away from the warehouse building.
Warehouse and ranger inventory windows that were opened through the Triforge window for selecting crafting ingredients now auto-close when moving away from the Triforge.
Messages posted to the in-game chat are now limited to 250 characters (previously: 300 characters).