Game Update August 3, 2021
Between
8:30 AM and 9:30 AM UTC+2
, the game servers will restart for a game update to be deployed.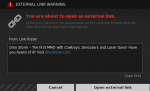 Chat ‒ External Link Window
We are introducing a window that can be invoked when a chat message contains at least one link to an external website. This window allows players to open links that are posted to the chat without having to copy the chat message text first. It also informs players about the potential risk that external links can pose.
The "Copy text" context menu button in chat is replaced with an "Open link" button when a chat message is found to contain a link.
Clicking the "Open link" button will not open the link right away, but show a new window first:

The window informs of possible risks when opening external links from unknown / untrusted sources.
The window allows to open the first link that is contained in the chat message with the press of a button. Only the first link in a chat message can be opened this way.
The window also has a "Copy text" button that allows for the copying of the whole chat message, just like before.
Other Improvements
Made adjustments to the Triforge window so that crafting attribute info bits can now fit two lines of text.