We have added a brand-new way to enhance and extend the abilities of your ranger: Open up the Profile Window and browse the all-new, highly effective "Power Gels".
Enhance and Extend Your Ranger's Abilities With Power Gels
5 Different Power Gel Effects
Whether you want to protect your buildings or simply gain more XP, there is a Power Gel for that.
Use All Effects at the Same Time
Don't worry about side effects – all five types of Power Gel can be used in conjunction.
Stack Effects for Maximum Impact
The effects of each type of Power Gel stack. This means you can reach a perfect 100% Wallet Guard for example!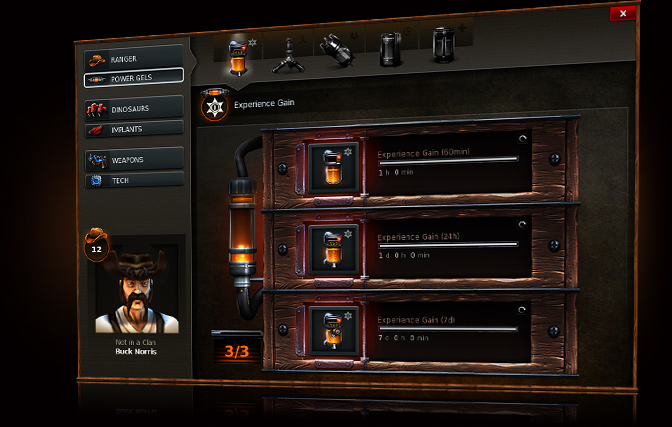 Introducing the Five New Power Gels – They're Super Effective!

Experience Gain
Increases Experience Points gained for completing quests or defeating enemies by up to 90%.

Wallet Guard
Grants a chance of up to 100% to keep all your Dino Dollars when you are being defeated in combat.

Building Protection
Reduces the supplies discharge rate when your buildings are under attack by up to 60%.

Fast Recovery
Reduces the time needed for recovering after you have been defeated in combat by up to 60%.

Healthy Recovery
Provides up to 50% health after using a recovery kit.