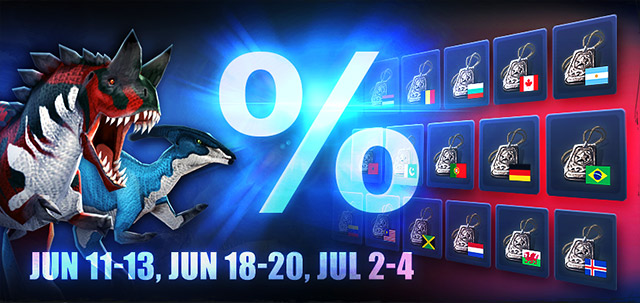 DINOBALL 2021 SALES
•
COUNTRY TITLES
June 11-13*
June 18-20*
July 2-4*
DINOBALL 2021 SALES • MAIN SALES WEEKEND
(stay tuned for more information)
June 24-27*
​
Unlike previous years, country-themed titles cannot be acquired through event achievements nor through Dinoball supporters. Why? There's just too many countries we wanted to bring to this event!

A full 78 country-themed titles will be available through Flash Sales running on the 1st, 2nd and 4th weekends of the event:

Albania
Algeria
Argentina
Australia
Austria
Belgium
Bolivia
Bosnia-Herzegovina
Brazil
Bulgaria
Cameroon
Canada
Chile
China
Colombia
Costa Rica
Croatia
Czech Republic
Denmark
Ecuador
Egypt
El Salvador
England
France
Germany
Ghana
Georgia
Greece
Haiti
Honduras
Hungary
Iceland
India
Indonesia
Iran
Republic of Ireland
Israel
Italy
Ivory Coast
Jamaica
Japan
Republic of Korea
Malaysia
Mauritius
Mexico
Morocco
Netherlands
New Zealand
Nigeria
Northern
Ireland
Norway
Pakistan
Panama
Paraguay
Peru
Philippines
Poland
Portugal
Romania
Russia
Saudi Arabia
Scotland
Senegal
Serbia
Slovakia
South Africa
Spain
Sri Lanka
Sweden
Thailand
Tunisia
Turkey
Ukraine
Uruguay
Usa
Venezuela
Vietnam
Wales

The 3rd weekend of the event (June 24-27) will see our regular event flash sales with exclusive skin art etc. Stay tuned for more info!
The 1st weekend Title Sale will begin midnight June 11*!
*

Starting midnight server time (American servers: EDT, European servers: CEST, Asian server: CST)
​