With Combat Redefined Part 3 Dino Storm is shaking things up. Get ready for an amazing update that focuses on two of the most important things for any ranger in Dinoville: Dealing more damage and staying alive!
Boost Your Damage!

The new damage boosters strongly enhance your outgoing dino and weapon damage.
• Get Standard Boosters from defeated enemies
• Find Stronger Boosters in stores and Auction House
Heal Your Wounds.

"Health Gain" is a new permanent healing skill available to all your dinosaurs.
• Permanent skill = Unlimited healing
• Has "EXTRA POWER" supercharge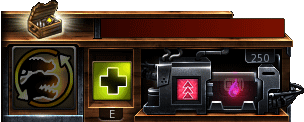 Potions Make Room for Boosters and Unlimited Healing
Damage Boosters and Unlimited Healing are the big stars of this update – and with these two strong leads in place, some actors in supporting roles have to go: It is always sad when someone leaves, but there just is no more room for potions in Dino Storm. Farewell!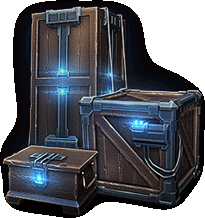 Introducing a new Daily Login Reward: Treasure Boxes!
Here are three great reasons for logging in to Dino Storm each day: Meet the all-new small, medium and large treasure boxes! These spacious containers are filled with a variety of valuable items like damage boosters, recovery kits and even gold coins – just to name a few. Log in to Dino Storm and open a treasure box right away!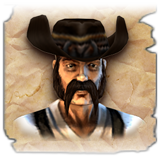 "Buck Norris is excited, but needs to know more.
These are my questions on boosters, unlimited healing and potions!"
Buck: Where can I find the new damage boosters?
The Dino Storm Team: Almost everywhere! Every creature in the game may drop boosters once defeated, plus there is a selection of stronger boosters you can find at the Auction House, the Combat Equipment Store and the Express Store. And there will be even more ways to obtain strong boosters in the near future!
"Unlimited healing"? Is this really as good as it sounds?
You decide. The new healing skill is called "Health Gain" and works just like a healing potion – but it will never run out. We think there really is no downside to it.
What will happen to all the potions I still own?
All kinds of potions—not just healing potions—will be removed from the game. You will automatically receive a refund for any potion removed from your possessions. You will receive Gold Coins for your elite potions, and Dino Dollars for other potions.
I am leading an auction for a potion – what will I get when I win the auction?
Your winning bid will be automatically refunded as soon as the auction is over.
Combat Redefined Part 3 is Now Live. Have fun playing!