WE ARE CELEBRATING
FIVE

YEARS

OF

DINO

STORM

★★★★★

On

February 28th 2012

, Dino Storm entered Closed Beta!

This meant that for the first time ever, people other than the developers themselves could test-drive our beloved dinosaur game and hunt for (one-armed) bandits and bugs. Of course, nowadays everyone can play Dino Storm as long as they want, for free!

Starting

February 24th 2017

, we are going to celebrate

5

Years

of

Dino

Storm

with all of you for a full two weeks!
Celebrate 5 Years of Dino Storm with Loads of Delicious Cakes

Blueberry cake
The slightly sour juicy taste of blueberries makes you partly reflect incoming damage back on the attacker for a certain time.

Chocolate cake
The instantly rewarding taste of chocolate grants you healing powers for a certain time.

Dragonfruit cake
The sweet refreshing taste of dragonfruit makes your attacks more powerful for a certain time.

Strawberry cake
The luxuriously sweet taste of strawberries makes your extra power bar refill more quickly for a certain time.

Mango cake
The sweet and slightly tart taste of mango increases your defensive powers for a certain time.

Rainbow cake
The overwhelming explosion of second-to-none flavors makes you run much faster for a while.
Collect Ingredients & Bake Yourself Some Cakes!

Combine All 5 Cakes For the Awesome Rainbow Cake!

Eat Cakes & Unlock the Brand-New Chameleon Dinosaur Skin Art!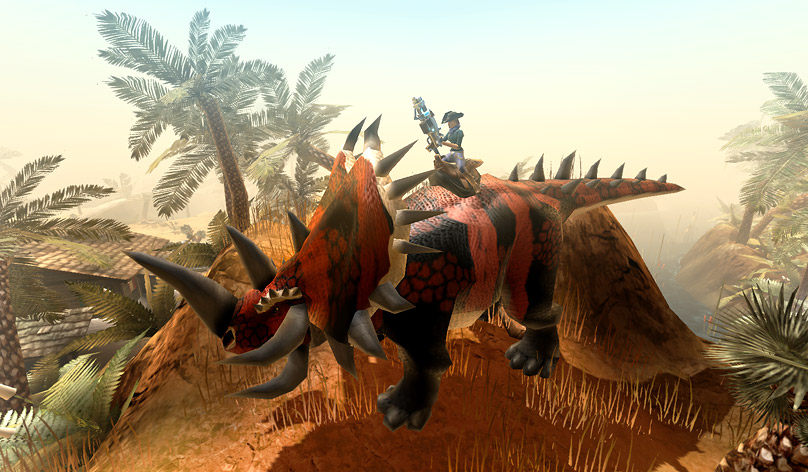 Now THAT is a fine-looking Centrosaurus!

See you on February 24th!