Hello rangers,
around the world temperatures are unusually high, causing a red-hot summer for countries in the Northern hemisphere. But in Dino Storm, a cold winter is coming
. We are working on a new map that proceeds from the snowy mountain top of "Coldclaw Valley".
New Map - Maujak Mountains
The area is dominated by a large glacier that is slowly moving landwards down the mountain. At the foot of the glacier a lake is emerging from the molten ice. The mountain landscape is softened by the snow that is falling every other day, only a few snow-covered trees arise from the otherwise almost unicolored hilly ground. Some traces of the treks that used to pass the area are visible. Most inhabitants of this area are specialized for living in these harsh and cold conditions.
Planned contents:
10 New NPCs
10 New Travel Gates
3 New Claims
~60 New quests
2 New Weapons
2 New Implants
2 New Tech Modules
New Max level 55
New Craftable clothing set
New Skins
The current timeplan shows that the release window will be in Autumn 2018. Feel free to ask questions about this upcoming update here. We will reply to this thread answering your questions and post new development updates.
Here are some early "Work in Progress" screenshots.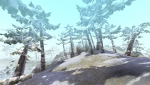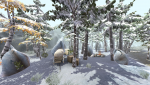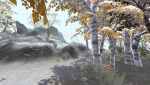 Google's translation bad?
Community translations of this changelog will get linked here (author's name included)!
Deutsche Übersetzung von Foxbonky:
https://forum.dinostorm.com/viewtopic.php?p=47476#p47476