Endgame Part 1 Update
We are planning to release this big game update ‒ the first part in a series ‒ early next week!
Explore the sections below by clicking on the "Spoiler" buttons.
New Features
'Silver Lily's Emporium' Special Goods Store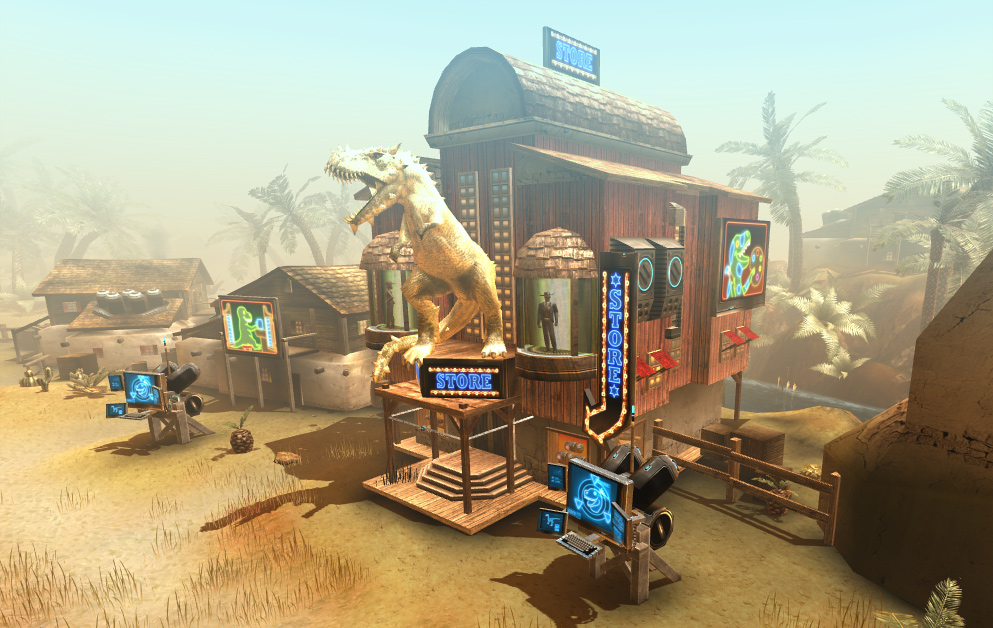 At the center of Dinoville, new arrival Laeticia Sceatta ‒ or "Silver Lily", as she's called ‒ is offering a small number of handpicked items for rangers who seek only the best in looks and convenience.
A new store building was added to the center of Dinoville, right next to the Saloon!
Silver Lily's is offering an exquisite selection of items that can only be purchased when you have Silver Crowns, a new currency that is currently only available through Fame auctions.
Brand-new items only available to players who previously reached the office of Sheriff

Sheriff hat (Dodger blue)
Sheriff jacket (Dodger blue)
Sheriff trousers (Dodger blue)
Sheriff visor (Bright blue)
"Dragon scales" skin art (Straw & blue)

Brand-new items available to all players who previously reached the office of Director

Jump Link construction kit

Brand-new items available to all players who previously reached the office of Ranger
Quality 7 items ‒ only Silver Crowns needed for purchase
Quality 10 items ‒ both Silver Crowns and Gold Coins needed for purchase

Please note that the selection of items on offer will grow significantly with future updates!

There will be a rotating selection of items, so not all items will be available at all times.

Also note that Silver Crown prices may seem high now, but a future update to the Townhall will bring much larger amounts of Silver Crowns into the game!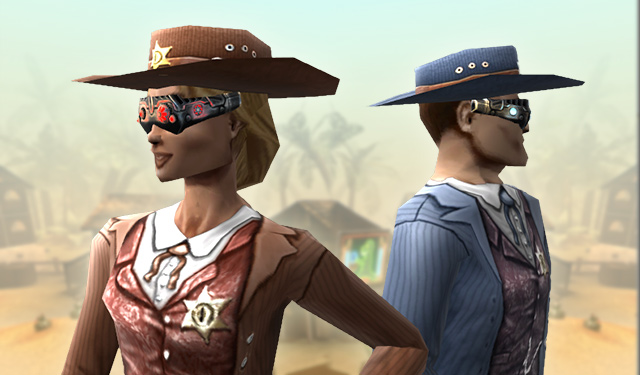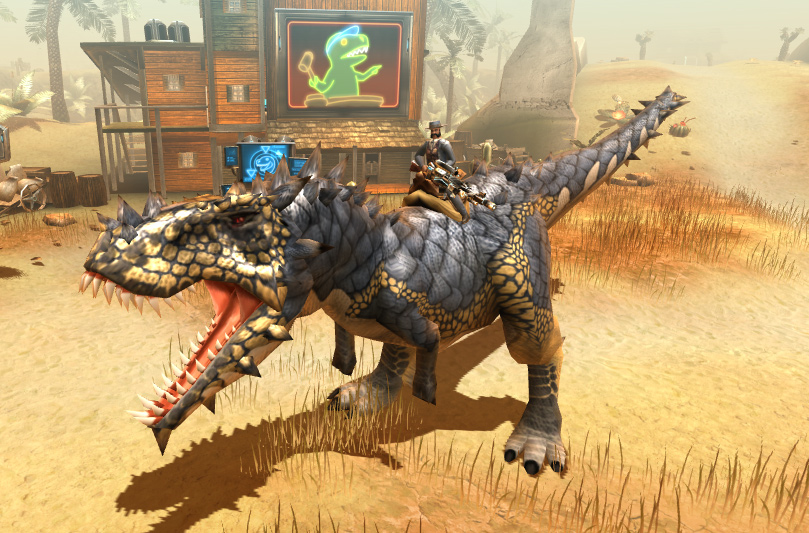 Jump Links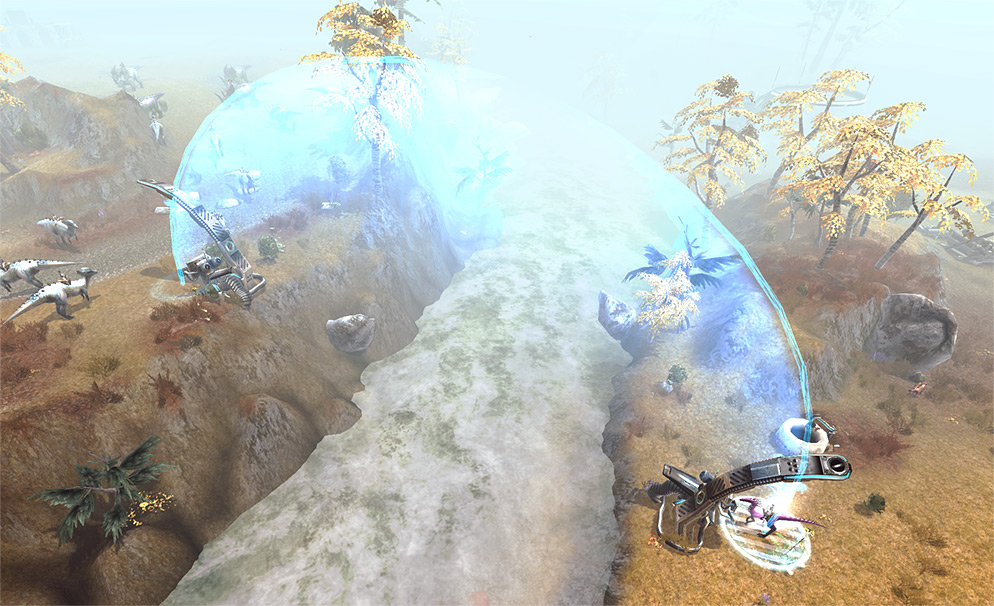 Jump Links are a great new tool for bridging short distances over impassable terrain, such as hills and rivers -- and once built, any player can use them!
Added the new item "Jump Link construction kit" to "Silver Lily's Emporium" special goods store. Jump Links can only be constructed via this item.
In order to purchase the Jump Link construction kit, your ranger must have previously reached the office of Director.
Your ranger level must meet the level range of the target zone for both building and using Jump Links.
Jump Links can be constructed in any zone, except Dinoville and Dinoville Canyon.
Use the "Jump Link construction kit" from your inventory to enter construction mode.

In construction mode, start by building the first of two parts for the Jump Link.
Then move to the place where you want your Jump Link to go and build the second part.
Jump Links can only bridge short distances, and they cannot be built too close to zone exits or sites. Graphical markers in construction mode will show you when your Jump Link can be built.
Construction mode will be cancelled when you actively engage in or are defeated in combat. The construction kit will not be used up when that happens.

Construction mode can also be cancelled manually at any time; only when you have built both parts of the Jump Link, the construction kit is used up.

Once you have completed the construction of your Jump Link, you, as its builder, can freely jump between the start and end nodes in both directions.
Other players can use your Jump Link in the same way, but they need to unlock it once.

Unlocking a Jump Link will add a certain amount of time to the Jump Link's lifetime. This way, the lifetime of any Jump Link can be extended to about a week!

When no other players unlock your Jump Link for their personal use, it will last one day.

Pairs of markers for active Jump Links are shown in both minimap and map window. In the latter, only Jump Links in a certain distance from your ranger will be shown.

Select a single Jump Link node in the game world, and both this node and its counterpart will be highlighted on the map. Jump Link nodes are also highlighted in pairs when you move your mouse across the icons on the map.

Added a few new achievement tracks related to Jump Links.
Silver Crowns

Silver Crowns are a currency which has been common in the big cities for some time, and has now made its way to Dinoville. Laeticia Sceatta of "Silver Lily's Emporium" charges Silver Crowns for her wares.
Right now, Silver Crowns can only be earned through winning Fame auctions. In a future update, Silver Crowns will be made available through the Townhall.

The amount of Silver Crowns that can be obtained through Fame Auctions is intentionally small.

Once Silver Crowns are available through the Townhall, much larger amounts of Silver Crowns will be issued.

There may be other opportunities to obtain Silver Crowns along the way, so keep your eyes open
Fame Auctions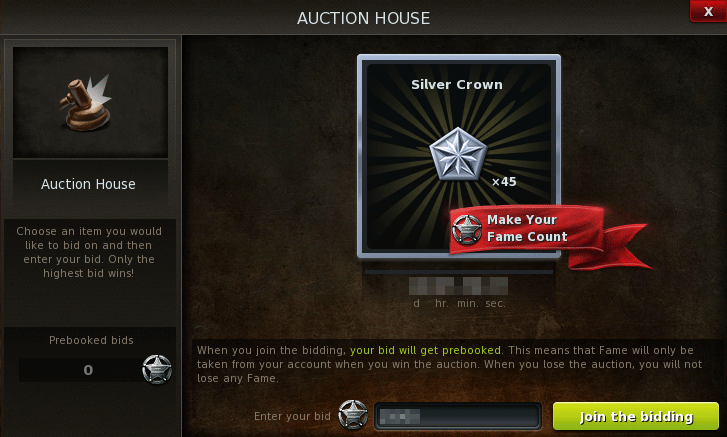 Fame auctions work exactly like the Traveling Trader's Premium auctions, but instead of Gold Coins you are placing your bids in Fame points.
There is no bidding fee with Fame auctions.
Bids are not billed immediately, but get "prebooked" for the duration of the auction. When the auction ends, the highest bidder gets the auctioned item and loses the amount of Fame points that they had previously entered as their bid. The other bidders on that auction lose nothing; prebooked bids are reset.
In case the auction winner does not have enough Fame points left to pay their winning bid, the next highest bidder wins the auction.
Teleport Protection (Invulnerability Status Effect)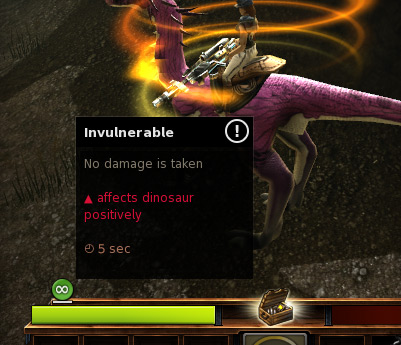 After entering a zone, using a Teleport Matrix, or traveling via Travel Gate or Jump Link, your dinosaur will now be invulnerable for a short period of time.
Added new status effect "invulnerable". Your dinosaur will not take any damage as long as the effect is active.
Added yellow particles that float around your dinosaur as long as the effect is active.
Duration of the new status effect is set to 5 seconds.

The effect is removed prematurely when you use an item or skill, or trigger a basic dinosaur/weapon attack.

As long as the effect is active, you cannot operate sites.
Improvements
Dinosaur Skin Art Visual Quality Upgrade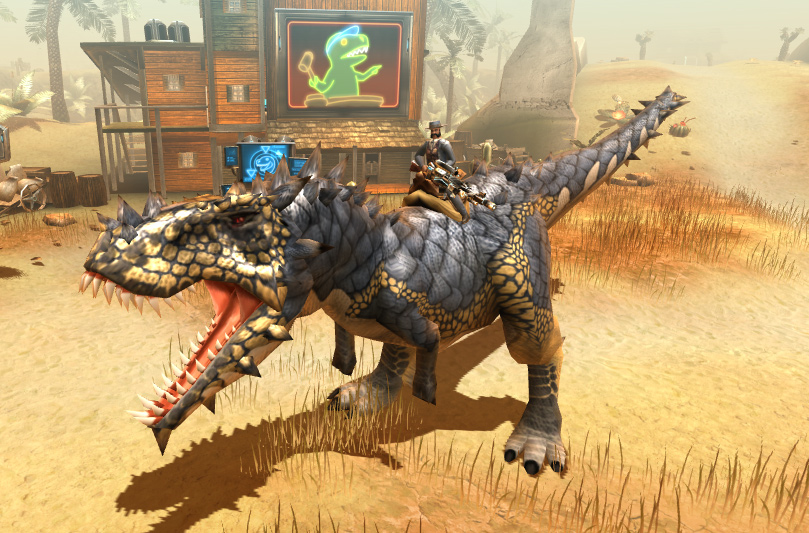 Improved the visual quality of how dinosaur skin art is displayed in the game when graphics quality is set to "lowest".
Added an additional texture layer that is so far only being used on the new "Dragon scales" skin art sold at "Silver Lily's Emporium".
Other Improvements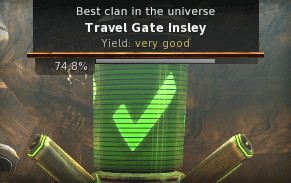 The info panel for selected sites now also includes information on Yield. Also, the site's supply status is now shown via progress bar.
Unit/site selection is now cleared when your ranger performs a teleporting action (Jump Link, Travel Gate, Teleport Matrix…). For example, before this change, the info panel still displayed information on your starting Travel Gate when you had already travelled to another destination Travel Gate.
Bug Fixes
Fixed a bug that could cause the loss of progress in achievements that counted auction wins and dice casino wins under certain circumstances after a server restart.