Every single person in Dinoville is looking forward to the season of trick-or-treat, costumes and pumpkin lanterns—and we bet you are as well. Costume makers and dino skin art painters have been preparing awesome Halloween quest rewards day and night for you to enjoy!
Play 7 Spooky Event Quests for Halloween-Themed Rewards
Seven Halloween Event Helpers have been tasked with providing adventurers quests and group quests for the duration of the event. Three can be found in Dinoville, two helpers are waiting in Mokon Woods, and two more have taken to the high-level areas of Goldfields.
Dinoville
Suggested Level: 3
So many Sweet Teeth!
Joy´s Halloween Cake
Ted´s Halloween Pumpkin Party
Mokon Woods
Suggested Level: 5-10
Bandits like Pumpkins too
More Candy for Dinoville
Goldfields
Suggested Level: 15-20
Skeletonized, Alive and Kicking?
Who ya gonna call?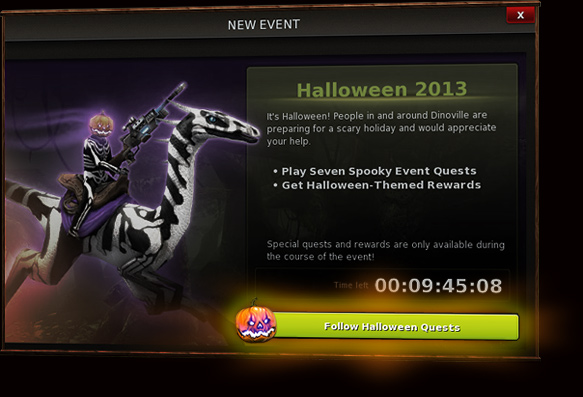 To play a Halloween event quest that suits your current level, simply hit the big green button "Follow Halloween Quests". If you want to play event quests that are way above or below your current level, just visit the respective Halloween Event Helpers on your own.
Saddle up and Celebrate Halloween in Dino Storm
Halloween 2013 starts on 

October 26 at 08:00

local server time*.
The event ends on 

November 1 at 23:59

local server time*.

7 spooky event quests

: Guard sweets transporters, hunt bandits for stolen pumpkins, distribute candy in Dinoville and much more.
Get fantastic 

Halloween-themed rewards

 such as pumpkin hats, skeleton clothes and a great, creepy skin paint for your dinosaurs!
* US Server Time Zone: EST | EU Server Time Zone: CET