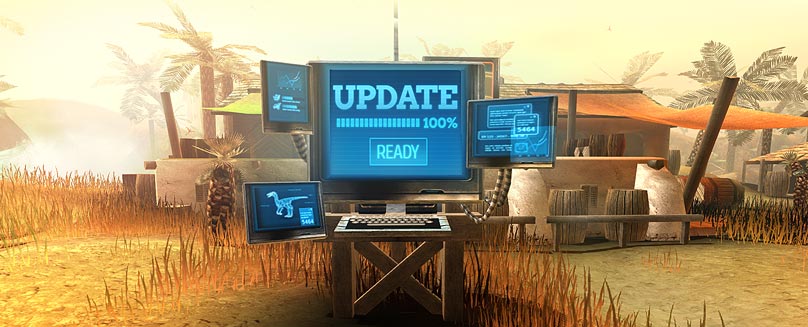 Game Update April 9, 2019
Between
8:30 AM and 10:30 AM UTC+2
, the game servers will shut down for a new game update to be deployed.
Update Changelog
NEW FEATURES
Made preparations for our Easter event.
IMPROVEMENTS
Improved response time of transport dinos in escort quests:


Transport dinos now react and start moving a lot quicker following recovery.
…after an attack has ended.
…after player comes into range.

Transport dinosaurs now decide three times as fast which way they want to go.
BUG FIXES
In escort quests, close-by players are not removed as active players when no quest-triggered attack occurs in a while.


Please note that there is a remaining known issue where escort quest dinosaurs sometimes fail to respond that could not yet be fixed for this version.

Fixed a bug that broke Peter McGillicuddy's quest "Travel Aid" in Green Volcano.
Fixed a number of bugs in several Maujak Mountains quests by fisher Tootega.
script
script
Google's translation bad?
Community translations of this changelog will get linked here (author's name included)!
---